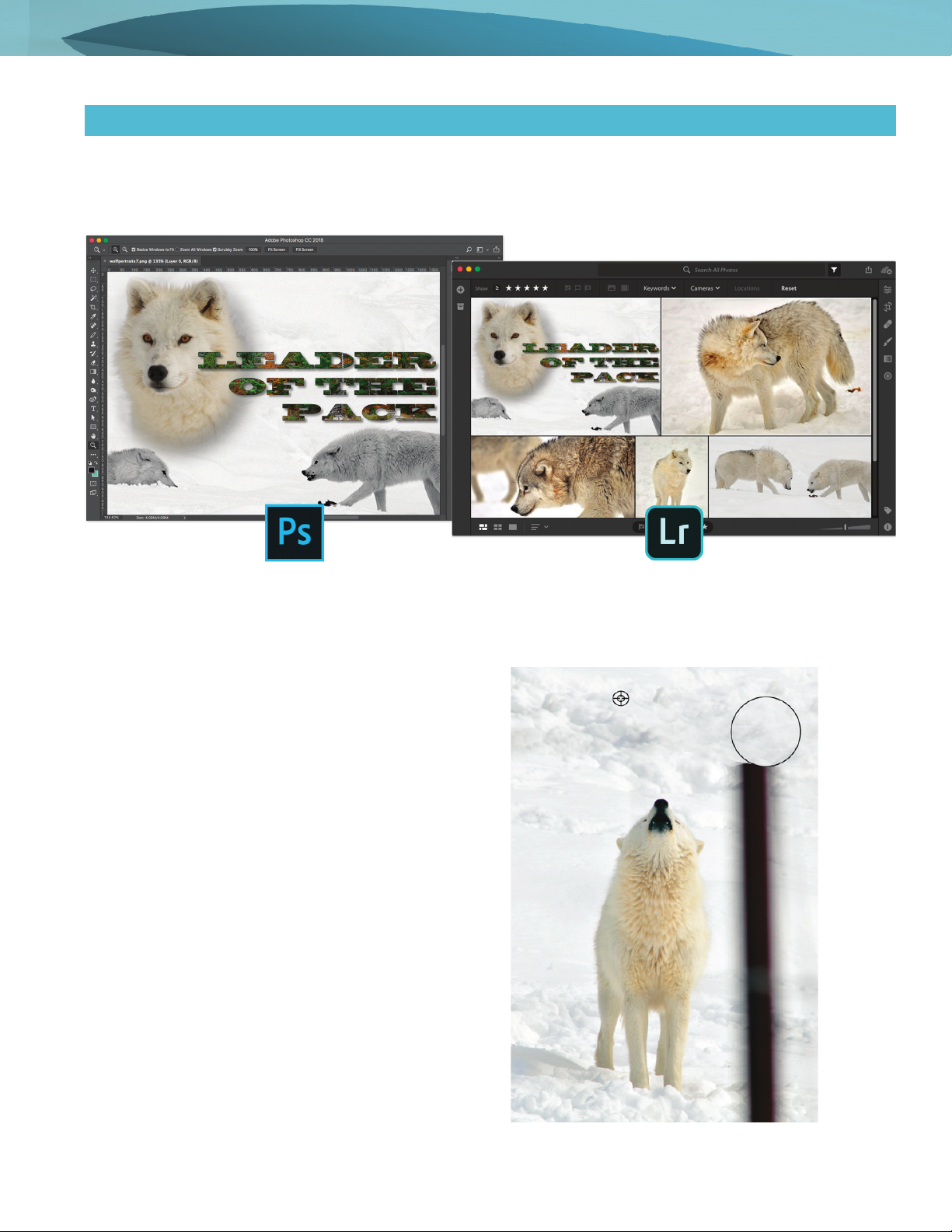 2
Use Lightroom CC with Adobe Photoshop CC
Open Lightroom CC photos in Photoshop
Open your Lightroom CC-edited photo in Photoshop to combine it with other images or graphics, retouch parts of the
image, remove unwanted elements, apply text, or other advanced edits. When you save your work in Photoshop, the
updated image automatically appears in Lightroom CC, and your original version is saved (
Figure 2

).
Here are a few ways that you can transform your Lightroom CC images in Photoshop:
•
Remove and move objects in your photos with
Photoshop
How often have you shot a great photo,
only to realize that there's something or someone you
didn't mean to capture in your photo? Fortunately,
Photoshop includes sophisticated editing tools like
the Magic Wand Tool, the Clone Stamp Tool, the
Healing Brush Tool, and more (
Figure 3

).
•
Combine images in Photoshop
Make compelling
images by merging multiple photos into one. Create a
a blended composite photo, a photo collage, or add
texture on top of a photo in Photoshop.
•
Apply filters to a photo in Photoshop
Photoshop
offers many filters for adding creative and special
effects, including art filters, a gallery of blur filters, and
effects filters like Liquify. When you're feeling creative,
try taking a photo from Lightroom to Photoshop to
add layer styles, colorize, warp, and more.
•
Add text to a photo in Photoshop
Imagine your
photo combined with text as a party invitation, a
wedding announcement, or an inspirational image for
your social media posts. Take your photos from
Lightroom to Photoshop and back again to add and
edit text.
Figure 2
Composite image in Photoshop (left) , and saved version in Lighroom CC (right)
Figure 3
Using the Clone Stamp Tool in Photoshop